Facebook has more users than WhatsApp, Twitter and Instagram combined, so it makes sense for you to be dominating. Let's take a look at some of the Facebook stats relevant to us. 1.6 billion active users monthly, 4.5 billion likes generated each day, 1.09 billion daily logins and 1.5 million mobile users.

Having known these, we can safely conclude that nearly all our market is on Facebook. But do we all succeed? Unfortunately, a small fraction of us know what to do and how to harness this potential market to convert it into success.

Imagine if this potential can be tapped using a tool, people would not be playing Russian roulette with their business again. Before we discover the tool, lets us first discover the benefits that Facebook automation in marketing can give you:
Facebook automation makes your Facebook marketing easy and fast. You can send automatic posts, messages, comments, and likes. It makes your account active throughout the day and publish your posts on time. You can schedule your posts for the right time, when your followers are active. This will help you get important leads and increased engagement.
Automation is a huge timesaver –

if one is able to create complex campaigns ahead of time and posts them just at the right time, this alone would save lots of time. It is a boon for the marketer.

Facebook automation enables you to reach all your individual customers and prevents you from manually segmenting your database.

The tools enables you with new ways of implementing rules and logically, you can restrict your customer's dos and don'ts.

Optimum utilization of your existing staff resources.

Automation allows you to operate or execute an array of pre decided campaigns using just a single staff member. It also allows you to connect with more people than it would have been possible manually.

Consistency becomes a habit.

With detailed reports, Facebook automation can keep track of email campaigns, posts, texts and other relevant activity. The tools are capable of presenting the results in a pictorial fashion that are easier to understand and comprehend as well.
Till now, most marketers using Facebook for business were doing most of the things manually. Now, there are tools that enable you to replace the need of a social media manager by having all your fan pages, groups posting viral and trending content daily for you instantly. Imagine sending your organic reach and viral posts, developing trust with your audience and automating the work that would have otherwise taken hours to execute.

This is possible with the tool named Octosuite.
Octosuite is a tool that allows you to send anything you need to your groups and fan pages to update on social networks, specifically Facebook. This tool is characterized by automatic and viral updating of the posts. Some typical features of the Octosuite are:
It discovers information from the social media site you use as Facebook fan pages, groups, Twitter, Reddit, YouTube and Royalty Free.

It allows you to schedule your posts. You can also set up at any group or fan page you want.

You can also be public, just a pic on many different pages.

This tool is capable of displaying full post's history when you need to look at anything you had earlier posted. It is also called as a fan page analytics and a mass fan page inviting tool.

It can train primarily for you.
There are ways in which Octosuite can benefit you:
(#1) Octosuite allows you to post anything at any page instantly – You need to provide the groups and the fan pages that needs to be updated. A simple click on this tool can do the work for you on your desired pages.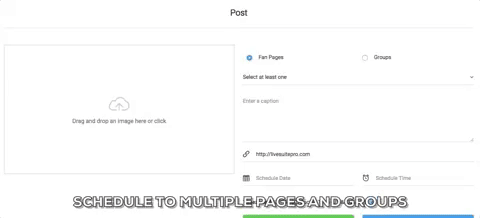 (#2) It allows you to gain an understanding about the trending content around the globe – Octosuite lets you take a look at what topics are trending in every niche from social media like Facebook, Twitter, YouTube, etc. You are allowed to edit the content that you find with its headline and do similar things like these.
(#3) It allows you to post from your own profile – With a click, you can find and analyse many pages and groups. After this you can join these pages and post immediately.
(#4) Octosuite allows you to update one content on multiple pages – it allows you to select a photo you want and click to post the same on any other page simultaneously.
Octosuite looks for information similar to the ones you need and analyzes them. After the analysis, the tool gives you some trends on the internet and updates the latest information to offer you the most useful data. If you are looking to increase your exposure, Octosuite is the best tool you can rely on. It will find for you groups or pages similar to your interest and let you join. Automatic posting is one unique feature this tool can give. Additionally, it allows you to find trending content and lets you decide what viral content can be created. With the help of this tool, you can manage multiple groups at the same time allowing you to acquire results and boost your search engine outcome as well. This tool sets you free from the hassle of posting on social media time and again as it automates the task on your behalf. The reason you should use Octosuite is because of its user friendly interface and functionality. Having known the simplicity with which you can carry out your business using automation with Octosuite, this is the perfect tool you need to download right now.

Let me know in the comments how you have benefitted using this tool and we'll share the success story with our audience.